9/22/2023
Admin
Azure OpenAI Using C#: Exploring Microsoft Azure OpenAI and embeddings and vectors to implement Artificial Intelligence applications using C#
---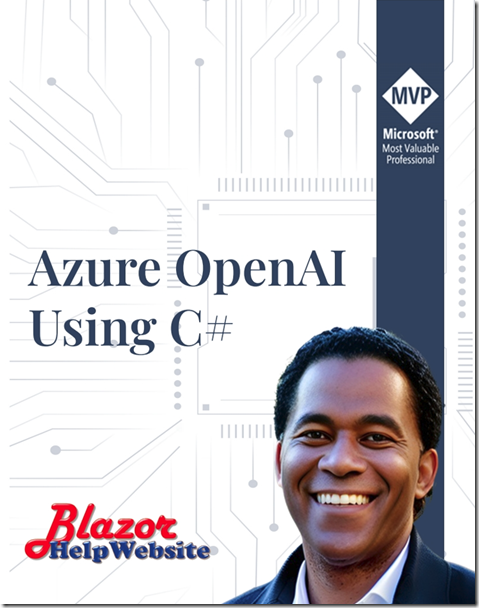 Just published
Azure OpenAI Using C#
Exploring Microsoft Azure OpenAI and embeddings and vectors to implement Artificial Intelligence applications using C#
Discover the power and potential of Azure OpenAI, and harness it seamlessly with C#.
Dive into the vast world of Azure OpenAI with this comprehensive guide tailored for C# developers. "Azure OpenAI in C#" bridges the gap between cutting-edge AI services on Azure and the ever-evolving world of C# programming. Whether you're a seasoned developer or just starting out in the field of AI, this book provides insights, hands-on examples, and the knowledge required to integrate Azure OpenAI into your applications effectively.
What's Inside:
Chapter 1: What Is Azure OpenAI and Why Would You Want to Use It?
Begin your journey by understanding the fundamentals of Azure OpenAI. Discover its capabilities, benefits, and the compelling reasons to integrate it into your software projects.
Chapter 2: Creating a Blazor Chat Application with Azure OpenAI
Dive into a practical application by developing a Blazor-based chat application. Enhance user interactions by leveraging the power of Azure OpenAI.
Chapter 3: Recursive Azure OpenAI Function Calling
Delve deeper into the functionalities of Azure OpenAI with recursive function calling. Understand the intricacies and potential applications of this powerful feature.
Chapter 4: What Are Embeddings and Vectors (And Why Should I Care?)
Step back and get a foundational understanding of the concepts of embeddings and vectors. Learn their significance in the world of AI and how they can be used in conjunction with Azure OpenAI.
Chapter 5: Bring Your Own Data to Azure OpenAI
Customize your AI applications by introducing your datasets. Learn the best practices, and strategies to effectively integrate your data with Azure OpenAI.
Chapter 6: Azure OpenAI RAG Pattern using an SQL Vector Database
Explore the Retrieval Augmented Generation (RAG) pattern using a SQL Vector Database. Enhance the depth and breadth of your AI solutions by tapping into database-driven vector storage.
Whether you're looking to upgrade your existing applications or are on the verge of creating a new AI-driven solution, "Azure OpenAI in C#" offers a thorough understanding of the capabilities and integrations possible with Microsoft's Azure OpenAI.